New Elms – for all things Morgan and Classic.
New Elms Classic situated in South West England, we specialise in the maintenance, restoration, rebuild and sale of classic cars and in particular, Morgan Sports Cars.
In addition we carry out full competition preparation, performance modification and accident damage repairs, including insurance work.
We also manufacture and distribute Rutherford Engineering suspension and chassis upgrades for the Morgan range, and stock Rutherford/AVO adjustable shock absorbers. With our selection of specially tuned suspension springs and shock absorbers we can transform your Morgan for comfort or speed at almost half the cost of some alternative installations.
New Elms Classic Workshop caters for all marques including, Austin Healey, Bentley, Ferrari, Ginetta, Jaguar, MG, Triumph and TVR, Porsche.
The tabs above will show you the main elements of our business. By clicking on each, we hope you will find the up to date info you need.
Each page has our contact details, so don't hesitate to email, phone or write to us if you want to enquire about or discuss anything.
We are here for you and your car – 24/7!!!
A Brief History of New Elms
Tim and Chrissy Ayres, supported on the technical side by Darren Bunn, started New Elms in 2008.
Tim has a long, successful history in the retail motor industry, and with his wife Chrissy, launched Tim Ayres Vehicles in 1991.
Darren started his career in the motor business with "Four Elms Morgan". He has built up an enviable knowledge and reputation with classic cars, in particular Morgans.
We have been lucky to expand our premises and our workforce with two further exceptional staff namely, David Mears, Nathan Jones.
Together we have enjoyed over twenty years of working on, competing in and dealing with Classic Cars, particularly Morgans.
In 2010 New Elms acquired Rutherford Engineering and continue to manufacture and distribute the legendary Morgan suspension and chassis modifications designed and developed by Dave Rutherford.
But the passion for Classic Cars really started in 1979 when Tim ordered his first Morgan, an Old English White Plus 8 registration MOP8X, called George…..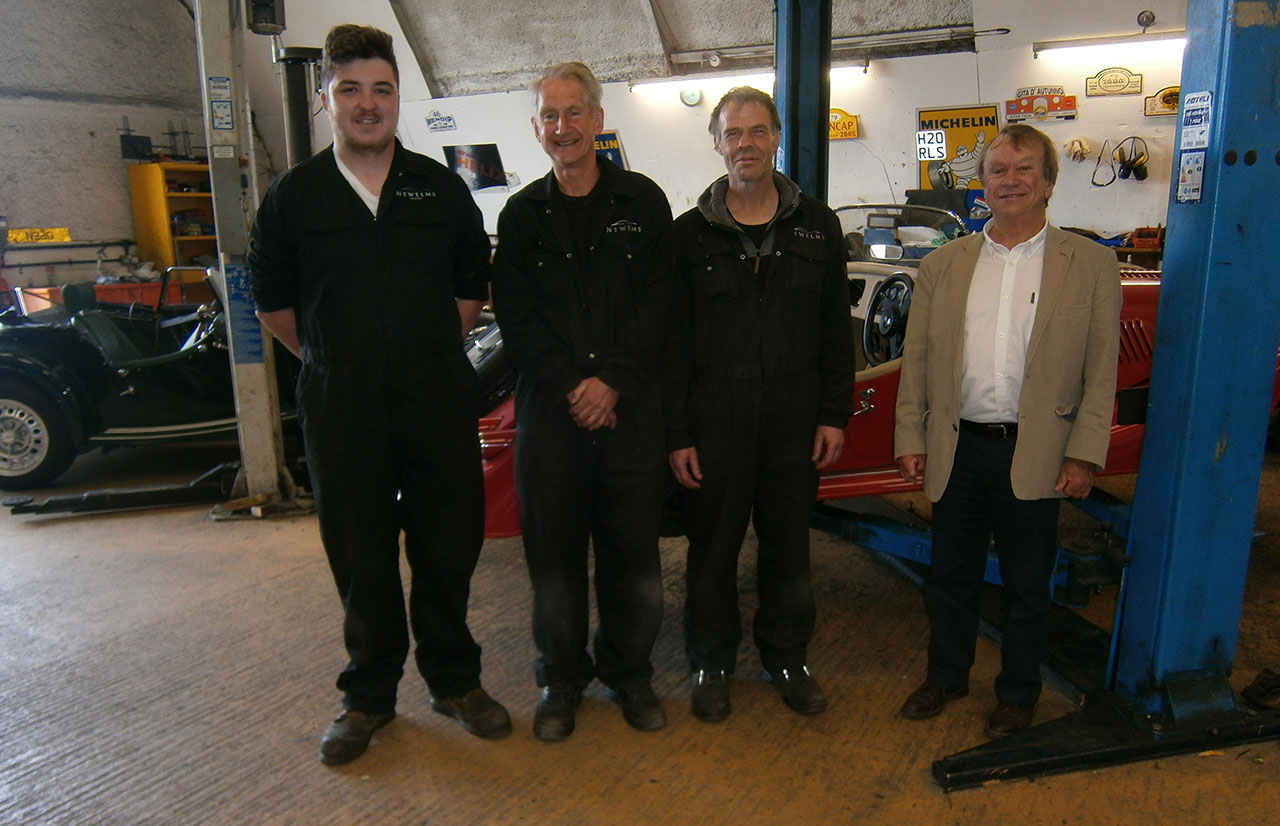 The New Elms Crew: Nathan, Dave, Darren, Tim (and Chrissy behind the camera)